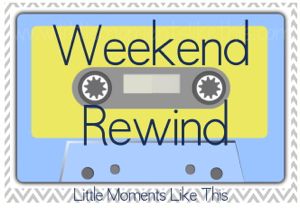 Happy Monday! I'm linking up today with Tami from
Little Moments Like This
for Weekend Rewind. I really am happy it's Monday today because this is my VACATION week! My vacation officially started on Saturday and it was so nice to be able to spend the day at home with Brandon and Anniston. Brandon and I really haven't spent much time together with Anniston since he's been home- I had to work all last weekend and I also worked the late shift 3 nights this past week in order to pay back my co-workers for closing for me while Brandon was in Tulsa.
Saturday was Brandon's day to "sleep in" so I got up with Anniston that morning. I really didn't mind- she's been doing much better at sleeping and I kind of enjoy getting up early (when I've gotten a substantial amount of sleep during the night) so I can get a few chores out of the way before our day begins. Anniston and I played, I did the dishes, cleaned her bottles, put in a load of laundry- and all before Brandon woke up at 7:30! Brandon and I had a date night planned for Saturday night. Bebe and Papa (Brandon's dad and stepmom) kept Anniston for us. We had dinner and went to see "The Lucky One." The movie was great (the book better) and my husband was a trooper for making it through a chick flick without complaining! It was nice to get dressed up in normal clothes that aren't either scrubs or workout attire. Here is my "outfit of the night."
top: J Crew; white denim jeans: J Crew; ballet flats: J Crew; bracelets: J Crew, Target, Accessory Auctions----can you tell I LOVE J Crew?
Sunday morning was my morning to sleep in so I was feeling good when I got up. I squeezed in a quick 2 mile run before we headed out to Target and Costco. We rarely shop as a family so this was a real treat for us. Anniston was able to sit up in the cart for the first time and she had so much fun people watching. My mom and dad came in town that afternoon and while they were playing with Anniston, Allie and I went biking. It's been a long time since I've been able to bike (being pregnant and all!) so it was nice to get out on our magnificent greenline and soak in the sun! Mom and Dad brought Anniston a little outdoor swing and slide set and I think she liked it!
That evening we went to eat at Swanky's- one of our favorite taco shops here in town. When we arrived, Anniston had worked up a good little surprise in her diaper for me. I don't know what it is about going out to restaurants, but if she's ever constipated I know what to do! Seriously- it was everywhere- on her bloomers and on the carseat! Thank goodness my mom was there to help me in the bathroom to clean her and the carseat up! We still had a fun time and Anniston was in a great mood after that! What a great weekend to kick off what is sure to be a fun week!